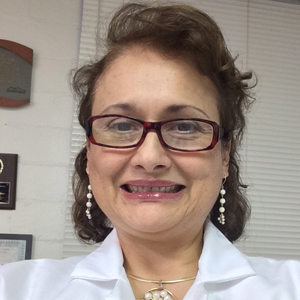 Maria del Pilar Aguinaga, Ph.D., DLM (ASCP)
Professor, Department of Obstetrics and Gynecology  |  Director and Laboratory Director, Meharry Sickle Cell Center
Dr. Aguinaga received her Bachelor's and Licenciate degrees in Biology and her Master's degree in Biochemistry from Universidad Peruana Cayetano Heredia in Lima, Peru. She did post-graduate training at the Biophysics Laboratory of the University of Wisconsin-Madison, and received her Ph.D. degree in Biophysics/Molecular Biology from Kanazawa University Medical School in Kanazawa, Japan. She came to Meharry Medical College as a post-doctoral research associate and rose through the ranks to tenured Professor in the Department of Obstetrics and Gynecology and Internal Medicine. She is the Director and Laboratory Director of the Meharry Sickle Cell Center. Dr. Aguinaga is an Adjunct Professor in the Department of Medicine, Division of Hematology/Oncology at Vanderbilt University. Dr. Aguinaga's research interests are in sickle cell disease and women's health and her clinical interest lies in the diagnosis of hemoglobin disorders, for which she is consulted nationally and internationally. She directs the State of TN Newborn Screening Hemoglobinopathy Confirmatory and Reference Laboratory housed at the Meharry Sickle Cell Center. She has numerous publications and presentations in the field of hemoglobinopathies. Her research work has received funding from NHLBI, NICHD, HRSA, OMH and the State of Tennessee Department of Health.
Dr. Aguinaga is a member of several professional societies and institutional, local and national committees. She is a former president of the EE Just Hematology Society of Minority Hematologists (Los Angeles, CA) and is a founding member of the Committee on Promoting Diversity for the American Society of Hematology (ASH) and has served in the Awards Committee of ASH.  She is a member of the State of TN Genetics Advisory Committee and chairs the Appointments, Promotion and Tenure (APT) Committee for the Department of Obstetrics and Gynecology and serves in the Department of Family and Community Medicine APT Committee at Meharry. She is a former advisor for the Consensus Committee in Hematology of the Clinical Laboratory Standards Institute and is on the board of directors of local non-profit organizations that promote health and education among minority populations.
Dr. Aguinaga has received various awards throughout her academic career at Meharry Medical College, and volunteer work in the Nashville community with special and underserved populations.  
Dr. Aguinaga is certified by the American Society for Clinical Pathology as Diplomate in Laboratory Management, Medical Laboratory Scientist and Technologist in Molecular Biology. Dr. Aguinaga is licensed by the State of Tennessee as a Medical Laboratory Director.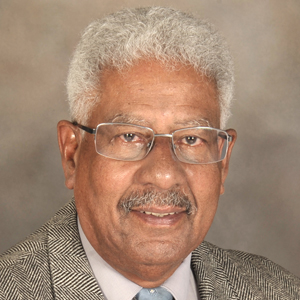 Professor, Emeritus of Medicine & Physiology & Biophysics  |  Director of the Adult Sickle Cell Center at Los Angeles County + USC Medical Center
Cage S. Johnson, M.D. is Professor Emeritus of Medicine and of Physiology & Biophysics at the Keck School of Medicine, University of Southern California and Director of the Adult Sickle Cell Center at Los Angeles County+USC Medical Center. He is a graduate of the Creighton University College of Medicine (Omaha, NE) in 1965 and trained in internal medicine at the University of Cincinnati and at the University of Southern California and in Hematology at the University of Southern California. He has received research funding from private foundations, the FDA and the NIH. He has served on a number of review panels for NHLBI, NIDDK, NSF and the Howard Hughes Medical Institute. He is a member of the editorial board for several scientific journals, a consultant to the pharmaceutical industry and a Director on the boards of local and national organizations. Dr. Johnson's research interests encompass the viscous and elastic behavior of sickle erythrocytes and their impact on mirocirculatory blood flow and vaso-occlusion in sickle cell disease. He has published over 100 articles on the pathophysiology of sickle cells and other hemoglobinopathies and on the clinical manifestations of sickle cell disease and other anemias. In 2011, he received the Alumni Achievement Award from Creighton University, its highest honor, in recognition of his career. In 2018, he received the Promoting Diversity in Hematology from the American Society of Hematology.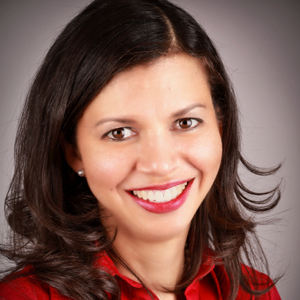 Courtney Fitzhugh received her B.S. magna cum laude from the University of California, Los Angeles in 1996, and her M.D. from the University of California, San Francisco in 2001. During medical school, Dr. Fitzhugh participated in the NIH Clinical Research Training Program, where she studied with Dr. John Tisdale at the NHLBI. After receiving her M.D., Dr. Fitzhugh completed a joint residency in internal medicine and pediatrics at Duke University Medical Center, and in 2005 she did a combined adult hematology and pediatric hematology-oncology fellowship at the NIH and Johns Hopkins Hospital. Dr. Fitzhugh returned to the NHLBI in 2007 and was appointed as Assistant Clinical Investigator in 2012 and Lasker Clinical Research Scholar as a Clinical Tenure Track Investigator in 2016. She is a member of the American Society of Hematology.
Dr. Alecia Nero received her initial medical training at UT Southwestern Medical Center in Dallas, Texas. Drawn by the opportunity for the harmonious integration of clinical medicine and research, she completed her residency, then hematology fellowship at Case Western Reserve University in Cleveland, Ohio. Dr. Nero brings to UTSW experience in nonmalignant hematology and an intense interest in sickle cell disease. She currently specializes in sickle cell disease, other hemoglobin disorders, and anemias. Dr. Nero has trained in both children and adults and brings the interest in transition of care within the subspecialty division of hematology-oncology. Her clinical practice emphasizes patient and family-centered care. Dr. Nero's interests outside of medicine include spending time with her family and reading for leisure.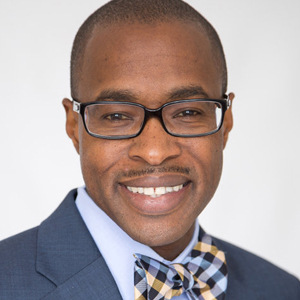 Director, Comprehensive Sickle Cell Program Childrens National Medical Center, Washington, DC  |  Director, The CASiRe Consortium
Dr. Campbell is a graduate of Case Western Reserve School of Medicine completed his residency training @ Harvard Affiliated Massachusetts General Hospital in Boston followed by Pediatric Hematology/Oncology Fellowship @ Northwestern University.  In July 2017, he became the Director of Comprehensive Sickle Cell Program at Childrens National Medical Center  in Washington DC, which is the second largest sickle cell program in the country with ~ 1400 patients . He also is an Associate Professor of Pediatrics at George Washington University School of Medicine and is the Global Health Research Lead.  Before his move to Washington, he directed the University of Michigan Comprehensive Pediatric Hemoglobinopathies Program which includes the Pediatric Sickle Cell and Thalassemia clinic and the Pediatric Sickle Cell Program. For the past several years he has focused his research in understanding the varied phenotypic expression of SCD in different populations through multinational CASiRe (Consortium for the Advancement of Sickle Cell Disease Research)in Ghana, England and Italy. He also  co-leading a Natural History Study of Sickle Cell Disease @ Children's National which would be one the largest single center SCD Registry and Natural History Study to date. He has served as a Member of ASH for over a decade and participated in Reviewing abstracts and serving as a Research and Career Mentor the ASH MMSAP and Minority Resident Hematology Award Program. He has mentored many students in the U.S. and abroad in Ghana for projects in Subsaharan Africa that includes through MHIRT Program and the Fogarty International.